This agent is a user of the Wiki!
Visit their profile here
AuthorDragon9
Date Joined
August 25 2011
First Post
This is a test so no cheating
Alias
BandArt9
Branch
Vesper
Active
No
Hi! This is Ellie Vesper  and I am here to tell you all about me.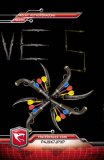 Who is Vincent Darklight?
He is an 18 year old trans Male from America who posted on the MB for the first time on August 25, 2011. Ever sense he has been in several RP's, posted a few stories (which have died) and been part of the Vesper council.
EDIT: 11/13/16
Greetings, This is Vincent Darklight, The new incantation of Ellie Vesper. This name will be the one primarly used on the MB under the screenname shown. Due to my coming out as trans on January, I have taken this name as a safe haven for me. Please use He/him/his pronouns and do not be afraid. Thank you. 
I am the host of a multiplicity system caused by Dissociative Identity Disorder, which is a trauma based disorder in which alters are formed to hide away from traumatic events. My main protector, Talia, used to post here and on the MB as an "alter ego" (one of the first, might I add) before I knew what DID was. 
On what threads can you find him on the most?
http://doublecross.scholastic.com/forums/topics/244811
Political status's
Vincent came to be Vice Vesper 8 in 2014 and ran for Vesper 6 in 2015 but the elections died off as more people left the MB's. 
Ad blocker interference detected!
Wikia is a free-to-use site that makes money from advertising. We have a modified experience for viewers using ad blockers

Wikia is not accessible if you've made further modifications. Remove the custom ad blocker rule(s) and the page will load as expected.