This agent is a user of the Wiki!
Visit their profile here
BlackWolf360
Date Joined
September 3 2011
First Post
It's happening, the first Vesper attack!
Alias
CrimsonWings23
Branch
Vesper
Active
No
General
Though her agent name has been changed to CrimsonWings23, she will still respond to BlackWolf.
She was the first Vesper and started the Vesper Academy RP [which is now back up and running] which caused more Vespers to join her, producing the MB Vesper Council of Eight
She was a former Egypt RPer, before that devolved into chaos.
She has six cats that don't belong to her but she none the less adores, and loves animals, art, plotting world domination, baking, and writing. Dracia is also fond of action, fantasy, and sci fi movies. And Fanfiction.
Her favorite kind of food is either sushi or pizza and her favorite dessert is Vesper Cookies. She likes tea, hates coffee, and is reasonably okay with angel tears.
Dracia has participated in the Demon RP on the MB, and is currently RPing on the Supernatural RP.
She is the female half of Jocia (the new Amian with a cult following, began by RedPuppy47).
Dracia can be found on Tumblr as Moral-Event-Horizon, on DeviantArt as ZesiroCross, and on AO3 as AdrienneMay.
She also frequents the Message Board and the Wikia on occasion.
Relationships
As reigning Vesper One, she has many friends and even more enemies.
She has a working relationship with all Vespers and a good amount of affection for most of them.
Most of her problems are with people who try to mess with her organization, or people trying to form new Vesper groups.
She denies Jocia forever.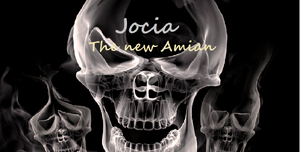 Ad blocker interference detected!
Wikia is a free-to-use site that makes money from advertising. We have a modified experience for viewers using ad blockers

Wikia is not accessible if you've made further modifications. Remove the custom ad blocker rule(s) and the page will load as expected.