Created by Chu on 24/07/2014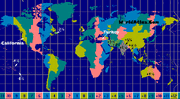 Well, here we post a list of MBer's Time Zones, so we can have a general idea of when they come on chat.
Say it was 12:00 (noon) GMT. I'll post which time it is on each section so you have an idea how many hours behind/forward. O_O
NOTE FROM MONTEGO: I fixed this page to revolve around GMT because that only makes sense.
NOTE FROM RYNN: We did not make this page to exclude you, dearies, so if you feel excluded, please POLITELY tell us so, and we might add you onto the list.
Pacific Standard Time [PST] (-8) (4:00)
Lyss Word-Lover
Frozzy the Snowman
99
Ivy
Hazel
Mountain Standard Time [MST] (-7) (5:00)
Justin Copycat
Central Standard Time [CST] (-6) (6:00)
Ashley Easton
Ruby Anne
James the Lord of Lacrosse
Eastern Standard Time [EST] (-5) (7:00)
Clair Copycat
Chu Kabra-Cahill
Cas.
Jade (Nyla's RL BFF)
Cali Bane
eKat
Kat the Unicorn
Christine
Montego (sometimes)
Boadicea the Warrior Queen
Sapphire
Elaia/Josie
Greenwich Mean Time [GMT] (0) (12:00)
Kazey
Montego (most of the time)
Amy
Red
Sapphire
Central European Time [CET] (+1) (1:00 / 13:00)
Bravo Time Zone [B] (+2) (2:00 / 14:00)
India Standard Time [IST] (+5 1/2) (5:30 / 17:30)
Chai
Priyanka
China Standard Time [XST] (+8) (8:00 / 20:00)
Megan
Jane
Laura
Safire 
Ad blocker interference detected!
Wikia is a free-to-use site that makes money from advertising. We have a modified experience for viewers using ad blockers

Wikia is not accessible if you've made further modifications. Remove the custom ad blocker rule(s) and the page will load as expected.