Moderators & Administrators

Moderator Jen B | Admin Gavin B
Admin Keith F | Admin Shelia L | Noah S
Admin Len F | Admin Beth N | Admin Jen T | Admin Mallory K ____________________________________________________________________________

Admin Jonathan Z

Admin Kevin P
|
Admin Erika S
|
Admin Emily S
|
Admin Harmonie R
|
Admin Lauren F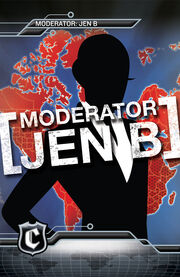 Moderator Jen B
is one of five moderators on the 39 Clues Message Board, the Hystorian Forum and the Greencloak Message Board. Her job is taking care of the boards, so if any of the rules are broken, she has the right to edit or delete that post. She has some help from other moderators, but she gets the final say. Moderator Jen B holds the current record for being the first moderator to have the longest conversation with an agent (Jason/FireDragon113). She is a Tomas Moderator. There are also rumours that she is a double identity of
Admin Jen T
. This is likely false.
It was revealed that WolfKnife10 (Alex) was lying about her resignation from Scholastic because of her fictional relationship with Gavin B (Javin).
Facts
Ad blocker interference detected!
Wikia is a free-to-use site that makes money from advertising. We have a modified experience for viewers using ad blockers

Wikia is not accessible if you've made further modifications. Remove the custom ad blocker rule(s) and the page will load as expected.