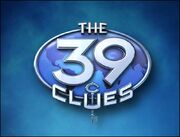 The 39 Clues franchise consists of four series, with Doublecross - the fourth series - currently being released. The series itself has a fairly large following predominantly consisting of young adults, with an official Message Board (now known as the Doublecross forum) run by Scholastic and Wiki
The first series is plainly called The 39 Clues, but most readers refer to it as The Clue Hunt (TCH). it consists of eleven books. The second series is Cahills vs. Vespers (CVV), which involves all Cahills, united, to defeat a common enemy: the Vespers. The third series, Unstoppable, features the Cahills against a new enemy - Rutherford Pierce. The fourth series is the Doublecross series. Extra books are Rapid Fire (7), Cahill Files (6), The Black Book of Buried Secrets and Vespers Rising.
First
The 39 Clues
The Maze of Bones by Rick Riordan
One False Note by Gordan Korman
The Sword Thief by Peter Lerangis
Beyond the Grave by Jude Watson
The Black Circle by Patrick Carmen
In Too Deep by Jude Watson
The Viper's Nest by Peter Lerangis
The Emperor's Code by Gordan Korman
Storm Warning by Linda Sue Park
Into the Gauntlet by Margaret Peterson Haddix
Second
The Medusa Plot by Gordon Korman
A King's Ransom by Jude Watson
The Dead of Night by Peter Lerangis
Shatterproof by Roland Smith
Trust No One by Linda Sue Park
Day of Doom by David Baldacci
Third
Nowhere to Run by Jude Watson
Breakaway by Jeff Hirsh
Countdown by Natalie Standiford
Flashpoint by Gordan Kormon
Fourth
Mission Titanic by Jude Watson
Mission Hindenburg by C. Alexander London
Mission Hurricane by Jenny Goebel
Unknown title by Sarwat Chadda
Ad blocker interference detected!
Wikia is a free-to-use site that makes money from advertising. We have a modified experience for viewers using ad blockers

Wikia is not accessible if you've made further modifications. Remove the custom ad blocker rule(s) and the page will load as expected.