This Article is a Stub. You can help The 39 Clues Message Board Wiki by
expanding it!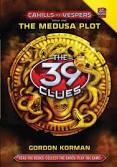 The Medusa Plot is the first book in The 39 Clues: Cahills vs Vespers.
It is written by Gordon Korman, author of The 39 Clues book two (One False Note), book eight (The Emperor's Code), and book eleven (Vespers Rising). Korman will also write The 39 Clues: Unstoppable, book four.
Kidnapped!
Thirteen-year-old Dan Cahill and his older sister, Amy, thought they belonged to the world's most powerful family.They thought the hunt for the 39 Clues leading to the source of that power was over. They even thought they'd won. But Amy and Dan were wrong.
One by one, distress calls starts coming in from around the globe. Cahills are being kidnapped by a shadowy group known only as the Vespers. Now Amy and Dan have just days to fulfill a bizarre ransom request or their captured friends will start dying. Amy ans Dan don't know what the Vespers want or how to stop them. Only one thing is clear. The Vespers are playing to win, and if they get their hands on the Clues, the world will be their hostage.
Taken from The Medusa Plot